Basic Whole Grain Cookies
These cookies are a great way to convince yourself (and your family) that baking with whole grains can be a tasty experience. Wheat and oats combine to make a cookie that's indistinguishable from one made with white flour, except in color.You have a couple of options for the oats used in this recipe. For a cookie with a craggy, oatmeal cookie-like appearance, use quick oats. For a smoother cookie, one that looks more chocolate chippy, grind the oats in a food processor, or substitute oat flour.Read our blog about these cookies, with additional photos, at Bakers' Banter.
Baking time:
13 mins. to 16 mins.
Total time:
28 mins. to 2 hrs 36 mins.
Ingredients
| | | |
| --- | --- | --- |
| 1/2 cup | Butter | |
| 1/3 cup + 1 tablespoon | Granulated sugar | |
| 1/3 cup | Brown sugar, light or dark, packed | |
| 1/2 teaspoon | Salt | |
| 1/4 teaspoon | Baking soda | |
| 1/2 teaspoon | Baking powder | |
| 1 teaspoon | Vanilla extract | |
| 1 | Large egg | |
| 3/4 cup | King Arthur 100% White Whole Wheat Flour or Traditional Whole Wheat Flour | |
| 3/4 cup | Quick rolled oats, ground in a food processor or blender if desired | |
| 2 tablespoons | Orange juice, optional | |
| 2 cups | Chips, nuts, and/or dried fruit, optional | |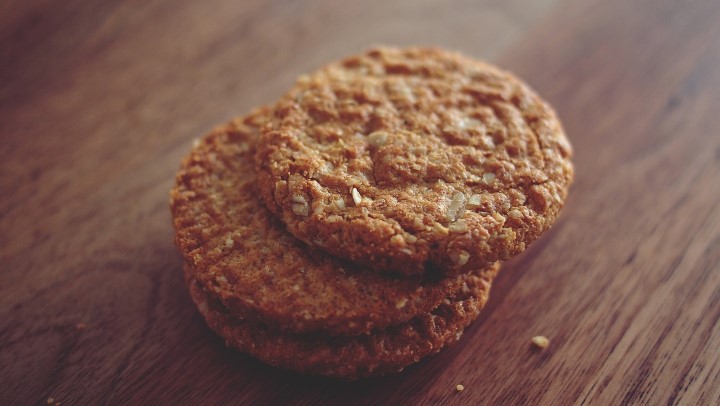 Directions
Beat together the butter, sugars, salt, baking soda, baking powder and vanilla till well combined.
Add the egg, beating till smooth. Scrape the sides of the bowl, and beat again till smooth.
Add the flour and oats, beating to combine.
If you're making cookies using chips, nuts, etc., beat in the orange juice, then the add-ins.
If you're making plain cookies, without add-ins, omit the orange juice.
Cover the cookie dough, and refrigerate until thoroughly chilled; at least several hours, or overnight.
When you're ready to bake, preheat the oven to 375°F. Lightly grease (or line with parchment) two baking sheets.
Drop the cookies by the traditional teaspoonful (about 2 measuring teaspoons, about a 1" ball) onto the prepared baking sheets, spacing them about 2" apart. A teaspoon cookie scoop works well here.
If the cookie dough has been refrigerated, bake the cookies for 13 to 14 to 14 minutes, until they're a very light golden brown, and a bit darker around the edges. For unrefrigerated dough, bake for about 11 minutes.
Remove them from the oven, and cool right on the baking sheets.